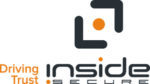 Mobile applications require an increased level of security. So, developers must build comprehensive protection into application content, logic, data, and cryptography. INSIDE MatrixSSE™ provides 3 powerful protections: Secure processing, Tamper resistance & Obfuscation, and a full secure element functionality in software.
INSIDE SECURE
Arteparc Bachasson – Bât.A – Rue de la carrière de Bachasson – CS 70025 / 13590 MEYREUIL / FRANCE / Tel.: +33 (0)4 67 20 99 11

Trust Revealing™ is a static and dynamic behavioral analysis engine dedicated to private apps and public/commercial third party mobile apps downloaded from App Stores. For a given mobile application, Trust Revealing™ is able to reveal all the actions performed by the application.
PRADEO
Les Portes d'Antigone, 71 Place Vauban / 34000 Montpellier / FRANCE / Tel.: +33 (0)4 67 20 99 11